Development Platform
Camptotheca acuminata
Vivacitas' Development Platform is focused on advancing two promising compounds, representing second- and third-generation Camptothecin derivatives, to treat especially tenacious malignancies: pancreatic cancer and Glioblastoma Multiforme (GBM). Molecules of the Camptothecin class originate from a native Chinese deciduous tree, Camptotheca acuminata, and have a long-standing clinical history as chemotherapeutic agents in a number of different oncologic settings. Camptothecins exert their therapeutic effects via their inhibition of topoisomerase I, an enzyme that plays a critical role in cell division.
Camptothecins: active lactone form and inactive carboxylate form
Despite the fact that 2nd generation Camptothecin-based drugs show therapeutic effects in a variety of settings, their use can be accompanied by dose-limiting toxicities, problematic pharmacokinetics, stability, and potency properties.
Nevertheless, it is worth noting that two marketed, second generation, off-patent Camptothecin-related drugs Hycamtin® and Camptosar®, together pulled in 1.5 B USD in revenue for 2012, even with their known side effect profiles.
Rubitecan/Orathecin and AR-67 are in the late stages of development and are being vigorously pursued as each offers potential improvements over commercially available Camptothecins, as discussed below.
Rubitecan/Orathecin ("RUBI")
Targeted for Pancreatic Cancer, an Orphan Indication
Cancer of the pancreas is an extraordinarily difficult neoplasm to treat. While pancreatic cancer survival rates are improving from decade to decade, the disease is still considered incurable. According to the American Cancer Society, for all stages of pancreatic cancer combined, the five-year survival rate is 7%.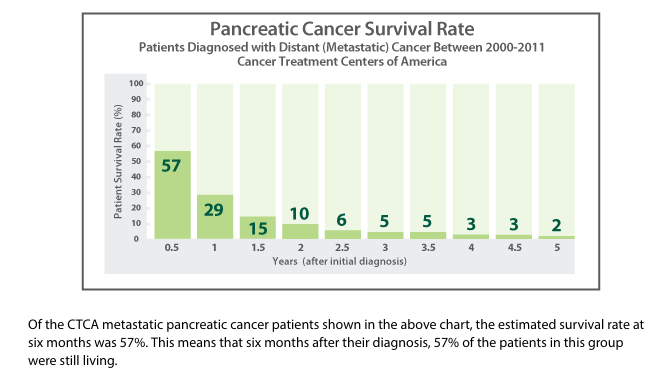 Through the efforts of Dr. Rubinfeld, Vivacitas acquired its lead Development Platform asset, Rubitecan, in late 2016. The company targeted this program because of three key elements suggesting an important role for this Camptothecin compound in the fight against pancreatic cancer:
RUBI, a second-generation Camptothecin, is the only orally available formulation, potentially allowing more flexibility in dose and schedule of administration, particularly in relation to combination therapeutic regimens. Currently, drugs of this class are delivered intravenously.
The program has garnered US FDA Orphan Drug Designation in two indications: pancreatic cancer and pediatric HIV/AIDS, as an anti-viral therapy, as well as Fast Track Designation in pancreatic cancer, thereby potentially offering attractive downstream advantages.
Most importantly, RUBI has already demonstrated promising clinical results as a second line therapy in Phase II and Phase III studies in patients with pancreatic cancer, as summarized below:
RUBITECAN/ORATHECIN Displays Encouraging Results in Phase II Trials in Pancreatic Cancer Patients
Phase II Trials
RUBITECAN/ORATHECIN: Positive Phase III Results in Pancreatic Cancer Patients: 3 Trials
AR-67
Protocol Design Stage in Glioblastoma Multiforme (GBM), an Orphan Indication
A 'fast follower' program to Rubitecan, AR-67, is a third generation Camptothecin derivative showing potential benefits in patients with Glioblastoma Multiforme (GBM), the most common primary brain tumor (ca. 55% of all gliomas). This neoplasm of the cerebral hemispheres poses a serious therapeutic challenge because by the time it is diagnosed, the cancer is already fully established. As a result, the median survival rate for untreated GBM is very poor at 3 months, with less than 50% of patients surviving at 1 year and only 3-5% of patients surviving 3 or more years.
The market opportunity for an effective therapy in GBM is expected to double over the next 4 years, and will likely be driven by the introduction of new diagnostic platforms targeted at earlier detection and intervention.
Expected GBM Therapeutic Market Growth
AR-67, an intravenously administered compound, is a specially modified Camptothecin designed to solve three major challenges in GBM; First, AR-67's modification results in improved pharmacokinetic and stability profiles that enable systemic dosing and suitable exposure to the drug. Second, AR-67's modified lipophilicity characteristics correlate well with a 16-fold improvement in potency (relative to marketed Camptothecins) as observed in clinical studies, suggesting that the therapeutic index has been widened, and might potentially reduce the dose-limiting toxicities often observed with Camptothecins. Lastly, AR-67 has demonstrated encouraging clinical activity in Phase II studies in patients with GBM, which will be studied further in future clinical trials.
AR-67: Phase I Toxicity Results
AR-67: Encouraging Clinical Phase II Results in GBM Patients
In the near term, Vivacitas is focused on designing a Phase III clinical trial while building on the benefits conferred by the recently issued Orphan Designation in GBM.